Due to COVID-19, the Office of Admissions has only limited on-campus visits at this time. Appointments are required. In the event that a visitor arrives on campus showing symptoms of the COVID-19 virus (including a temperature of 100 or greater)they will be asked to reschedule their visit and leave campus immediately. At this time, all visitors are required to wear masks on campus.
Meet with an Admissions Counselor
The best way to be sure that SUNY Morrisville is truly right for you is to meet with us!
We are now offering limited On-Campus Tours, or you can speak with us virtually, without even getting in your car. Either way, we will schedule a personalized meeting with an Admissions Counselor, so that you get the inside story from those who will share in your education and help you begin your future.
Register for an Individual Meeting
To schedule a meeting with the Norwich Campus, contact them directly at 607.334.5144.
Select Saturdays
Can't make it to campus on a weekday? We have several Select Saturdays throughout the year to give you an opportunity to get to campus on a Saturday. While faculty and some facilities are not available, you will be able to tour the campus and meet with Admissions. Also consider our Fall Open Houses, for even more access to everything SUNY Morrisville has to offer!
Upcoming Select Saturdays
REgister for a Select Saturday
Open House
Open houses are your opportunity to learn more about our campus and experience life at SUNY Morrisville.
Fall Open Houses allow you to:
Meet faculty members in your major
Find out more about financial aid, scholarships and paying for college
Tour the campus and its unique academic facilities
Ask our admissions staff about the application process
Visit with the Athletics Department staff
Saturday, November 13 at 8:30 A.M.
Online Live Chats
Before you come to campus, feel free to chat with us online. In addition to individual virtual appointments on most weekdays, our Live Chats give you the chance to speak to Admissions, Financial Aid and Residence Life, all without getting in your car!
Our next Live Chat is
Virtual Campus Tours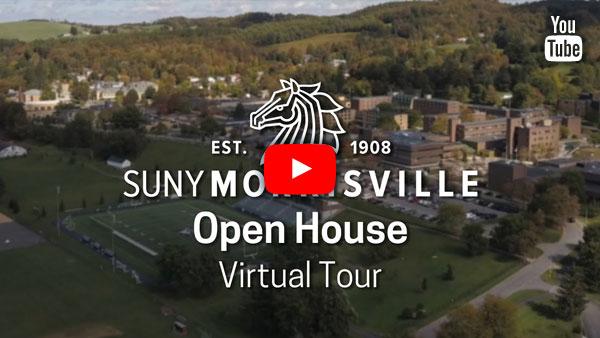 Be sure to also visit our YouTube channel to learn more about our programs, view housing options, hear from alumni and discover a 360° Experience of our facilities.
Group Visits
All groups wishing to visit SUNY Morrisville must complete and return the group reservation form. Our Admission Visit Coordinator will contact you once this form is received. On Campus group visits are temporarily unavailable, but we can arrange a group web meeting to speak with your group.