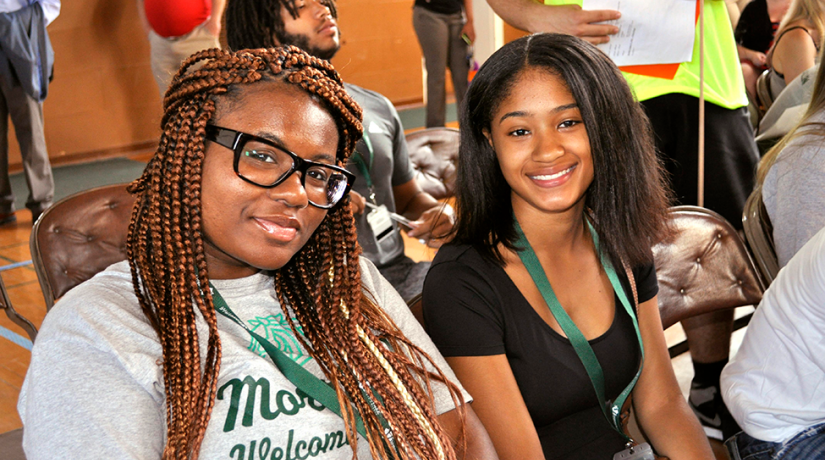 SUNY Morrisville operates on rolling admission and accepts applications for both fall and spring semesters. For more information, please contact the Office of Admissions.
Admission Requirements
General
A minimum high school GPA of 70 required.
Certain academic programs require a GPA of 75 or above. Please contact the Office of Admissions for more information on specific requirements.
Final high school transcripts.
Nursing A.A.S.
All application materials, including the official TEAS score report, must be received by the Admissions Office on or before February 1 for consideration.
A minimum cumulative high school GPA of 80 or above is required
A minimum Biology/Living Environment regents score of 75 or a minimum Biology/Living Environment non-regents course grade of 80 (non-regents courses must include a lab component).
Placement into MATH 102: Intermediate Algebra with Trigonometry (or higher). 
A minimum score of 62 on the TEAS exam. Students are allowed a maximum of two attempts at the TEAS. It is recommended that students wait a minimum of 6 weeks before repeating the exam if the desired score is not achieved after the first attempt. Exam scores are valid for 2 years from the date of the exam.
While letters of recommendation, personal statements, and/or documents highlighting relevant experience (BOCES, CNA, LPN transcripts, etc.) are not required for the application, they are strongly encouraged for the nursing program specifically.
To apply, submit:
A completed SUNY Application or The Common Application.

There is a $50 non-refundable and non-transferable fee for each application.
Students facing financial hardship may have the fee waived by submitting a Fee Waiver Form.

Official high school transcript or GED/TASC scores.
Official AP and/or IB score reports, if applicable.
SAT or ACT scores recommended for all freshmen seeking admission into a bachelor's degree programs.

Due to the cancellation of SAT/ACT exams, SUNY Morrisville will offer test-optional review for applicants seeking admission into a bachelor's degree program. Students interested in test-optional review may be required to submit additional application materials including an essay and information on extra-curricular activities. If additional information is needed, an email will be sent with instructions on how to submit this additional information.
Send all transcripts and score reports to:
ADMISSIONS
SUNY MORRISVILLE
PO BOX 901
MORRISVILLE, NY 13408
Final High School Transcripts
Directly following high school graduation, you must submit your official final high school transcript verifying high school graduation, or the equivalent, to the SUNY Morrisville Office of Admissions. Please note that the transcript must include a date of high school graduation.
Failure to submit official final high school transcripts by the first day of classes may impact your receipt of federal and state financial assistance. Additional implications may include housing status and meal plan access.
If you have questions concerning official final high school transcripts, please contact the Office of Admissions at 315.684.6046 or admissions@morrisville.edu.
College Credits Earned in High School
In general, your credits will transfer if they are applicable to the degree to which you are applying.
A grade of 'D' or better is transferable unless a different grade is required for your intended major.
The actual grade you received at your prior institution will not count toward your SUNY Morrisville grade point average.
Students must submit official college transcripts for all courses taken during high school to receive credit.
For more information on credit policies, general education courses and requirements, and articulation agreements, please visit the College Catalog.
Advanced Placement
Students who have completed Advanced Placement coursework and have taken an AP examination must submit an official score report for credit to be granted. A minimum score of 3 or higher is required for credit, please contact the Office of Admissions for questions on specific exam requirements.
High School Articulation Agreements
SUNY Morrisville partners with a number of high school and BOCES districts to offer articulation agreements in which high school students who have successfully completed a Career & Technical Education (CTE) program are eligible to earn college credits that are applicable toward an aligning associate or bachelor's degree program at our institution. Articulation agreements allow students to build on past learning experiences while eliminating the unnecessary duplication of skills that have already been developed as a result of their participation in a CTE program throughout high school.
Benefits of an articulation agreement include the following:
Earn college credits as a high school student
Eliminate or greatly reduce the duplication of instruction
Advanced credit standing in a SUNY Morrisville degree program (may reduce the time needed for degree completion)
Save money on course tuition fees and textbooks
Improve career readiness skills
The credits are available at no cost to students who enroll full-time at SUNY Morrisville upon graduating from high school. To be eligible for articulation credits, students must meet certain criteria including grade point average and a positive CTE instructor recommendation. Other criteria, such as passing a skills assessment test, may apply depending on the degree program. View our active articulations agreements list to see which schools this applies to.
Mustang Scholarships
All incoming first-year applicants are eligible for Mustang Scholarships. Applicants are evaluated for academic strength, extracurricular involvement, and financial need. To maximize scholarship opportunity, early applications are encouraged. Scholarship amounts are subject to change based on fund availability. To guarantee the awarded amount, students must comply with response requirements as outlined in the award and /or acceptance letters. Unless otherwise noted these scholarships do not cover the cost of college tuition and will be applied to non-tuition related expenses up to total cost of attendance. Applicants are encouraged to apply early for best consideration.
Three levels of Mustang Scholarships are available:
Trustees Award: Our highest award, award recipients receive $4,000 per year for a maximum of four years. The student must be enrolled full time, reside on-campus, and maintain a minimum 3.0 GPA or higher.
Presidents Award: Award recipients receive $3,000 a year for a maximum of four years. The student must be enrolled full time, reside on-campus and maintain a minimum 3.0 GPA or higher.
Deans Award: Award recipients receive $2,000 a year for a maximum of four years. The student must be enrolled full time and maintain a 3.0 GPA or higher.
Learn more about Scholarships 
Housing Policy
Students are required to live on campus unless you:
Have completed a minimum of 60 college credits
Live within 30 miles of the college and plan to commute
Are 21 years of age or older
Are a military veteran
Are married or in a partnership
Have a significant financial barrier