In the saddle.
In case you haven't noticed, we're pretty proud of being Mustangs. So, it should not surprise you that our equine programs are among the best.
Our students love horses, from muzzle to tail. Whichever equine discipline they prefer, all of them find a track to take at SUNY Morrisville. With equine programs in science & management, breeding, business, rehabilitation & therapy, hunt seat or western riding, students learn to care for these magnificent creatures from birth through retirement.
With the guidance of experienced professionals as our faculty and staff, SUNY Morrisville students learn how to breed, train, show, ride, work, rehabilitate and otherwise make a life and career out of an affinity for horses.
We have amazing facilities to match the caliber of our horses, too. Extensive stables, outdoor and indoor riding arenas, state-of-the-art breeding and rehabilitation centers, a racetrack and exercise areas are all part of the amazing experience you will find as an equine student at SUNY Morrisville.
We know that horse people are special people, and we want you to feel right at home with the rest of us. Take a look at what we have to offer and we'll help you succeed in your equine education and career.
Alumni, Equine Science B. Tech.
Morgan Plummer '18 talks about her experience in the Equine Science B. Tech. program at SUNY Morrisville where she focused on equine rehabilitation in pursuit of her career and life goal to help horses.
Our One-of-a-Kind Equine Facilities
The quality of an academic program does not depend solely on faculty expertise and student effort. Truly great programs are augmented with innovative technology and modern facilities.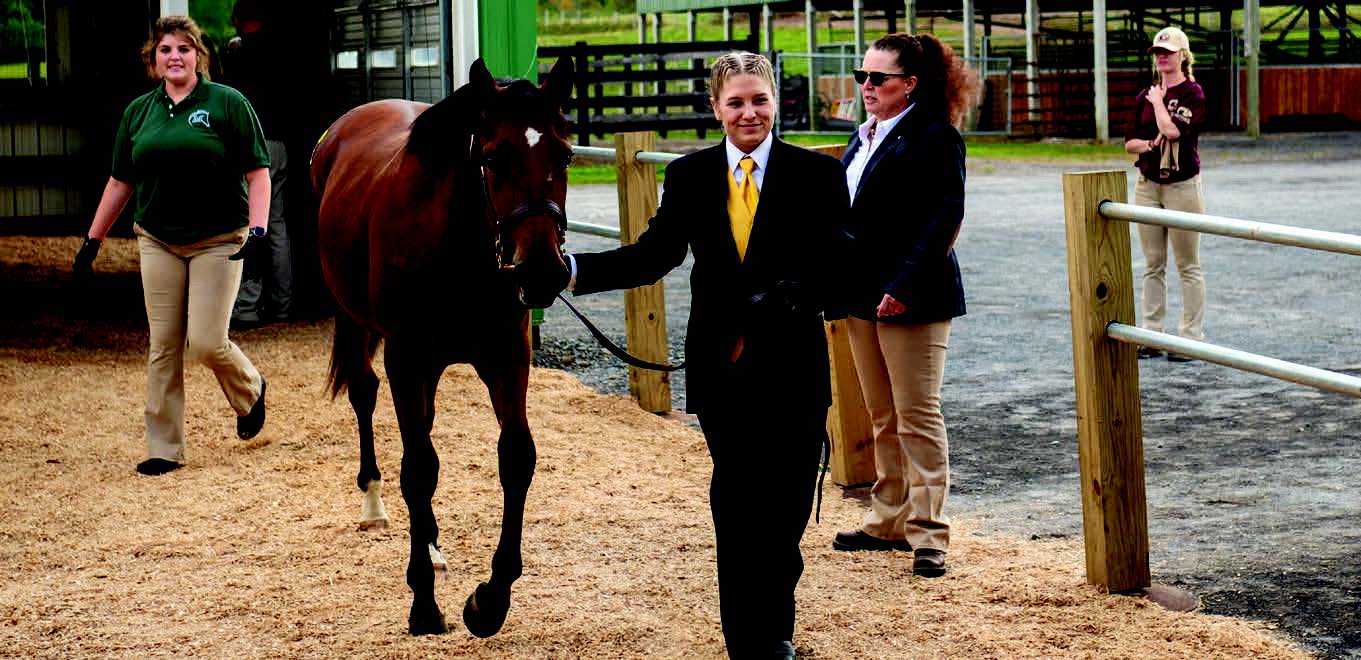 Clubs, Activities and Competitions
In addition to a unique education and outstanding facilities, SUNY Morrisville provides a variety of related clubs, activities and competitions to further your career track.
Collegiate FFA
Established to broaden the interest and knowledge of students in the field of agriculture, Collegiate FFA provides its members with a learning environment outside of the classroom. Annual events include the National Ag Day celebration, a weekend trip during the fall semester and support of the National Post-Secondary Agricultural Student Organization (PAS).
Livestock Club
As a member of our Livestock Club, you will explore a range of species through husbandry with the college's animals on campus and also travel to nearby farms. The club also sells a range of products to Morrisville's Copper Turret Restaurant and directly to consumers to sustainably support its activities.
Equestrian Teams
If you are interested in Western or Hunt Seat, you can join one of the SUNY Morrisville equestrian riding teams, which compete in Zone 2 Region 3 (Western and Hunt Seat) of the Intercollegiate Horse Show Association (IHSA).
Both riding teams are chosen by tryouts and are open to all students.