As a hot housing market and spike in home remodeling propel the need for skilled tradespeople in the residential construction industry, Mike Gridley '04 is doing his part to ease the demand.
The assistant professor of residential construction at SUNY Morrisville has been teaching the tricks of his trade and molding skilled workers for more than two decades in the classroom and as proprietor of Gridley Construction, in Hamilton, New York.
Now more than ever, his mastery in the field is essential as the COVID-19 pandemic drives the demand for proficient tradespeople through the roof. A buoyant housing market and a surge in home remodeling and repair, along with favorable interest rates, spell out abundant job opportunities but not enough skilled workers to fill them.
"The pandemic caused many people to want to add space, especially outside," Gridley said. "It also changed their minds about going on expensive vacations and instead, putting more money into their houses and property where they spend a lot more time."
"As soon as the stimulus money came in, many homeowners took advantage of it and started repairing small stuff in their houses, like garage doors, and wanted small kitchen and bathroom remodels," said Or Oren '05, owner of Oren Construction, a high-end residential design and remodeling construction business in Hamilton, New York. "That made the entire industry as busy as I've seen in the last 14 years."
As residential construction jobs soar past pre-pandemic levels, companies are anxious to fill them. What are employers looking for? Workers that know what they're doing, according to industry leaders.
"It is hard to find good labor and Morrisville's residential construction and wood products technology programs are a great source of qualified candidates," Oren said.
"Based on our students' skillsets, they are poised to fill the huge shortage in this trade," Gridley said. "Everything we teach provides students with experience and skills to gain a competitive edge in the job market."
"Coursework is applied and relevant, so the skills our students come out of the program with are high value and can be applied on the job site from day one," said Ryan Quinn '13, assistant professor of renewable energy and residential construction.
Everything we teach provides students with experience and skills to gain a competitive edge in the job market.
Mike Gridley
Quinn earned a Bachelor of Technology degree in renewable energy from SUNY Morrisville and came back to teach in the program after obtaining a Master of Science degree from SUNY ESF and working in the solar industry as a project engineer. In addition to his classes in solar photovoltaics and electrical theory, he also teaches plumbing,  electrification and HVAC courses in the residential construction program.
More than just building
Students in the residential construction program get hands-on experience in all the latest construction techniques, framing systems, energy systems, masonry systems, foundation concepts, plumbing, electrical, HVAC and surveying. Students also gain experience in finish carpentry and furniture production and business while taking electives offered by the wood products technology program, which has its own 14,000-square-foot Wood Products Technology Center.
They even learn about the business of construction, with courses in business law, accounting and human resources, and can explore related topics that include small power equipment, welding and engineering.
With the soaring cost of treated lumber and a shortage of other materials, estimating has become more important in the industry and is gaining traction in classes.

Coursework in employee supervision, accounting and public speaking round out the program. What's more, students can take crossover and relevant courses in other programs to augment their education.
"Morrisville's wood products technology and residential construction programs introduced me to the principles of construction, especially in wood construction, including fine carpentry skills that set me apart from my competition," Oren said.
The residential construction grad learned to design and work in teams.
"In remodeling, it is necessary to diagnose and solve problems created by poor installation," Oren said. "I call myself a 'house doctor' and use the knowledge I gained from my bright instructors at Morrisville as the foundation of my best practices in construction."
SUNY Morrisville wood products technology student Finneas Goodwin is taking classes in residential construction and wood products technology, which offers him a look at the steps involved in turning raw lumber into a finished product through courses in finish carpentry, wood laminates, furniture production and manufacturing, sales and marketing of wood products, architectural millwork and related fields.
"When I graduate this year, I can go into so many different fields with everything I know, including framing, electrical, plumbing, HVAC or woodworking," Goodwin said.
As alumni, Gridley, Quinn and Oren know the value of a SUNY Morrisville education. All were heavily sought after in their industry when they graduated.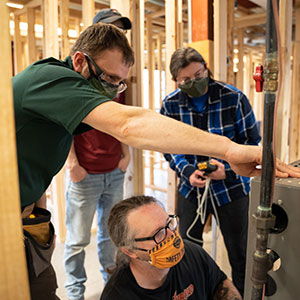 The future is even rosier for today's graduates, as renewed interest in the trades continues to climb.
"I receive roughly three to four emails a week from regional employers looking to hire graduates for positions in construction, remodeling, carpentry, HVAC and more," Quinn said. "We have a unique problem, in that we typically have more job opportunities than students."
"I am approached often by contractors and managers who know I teach and ask me if I have any students looking for work," Gridley said. "With this labor deficit, there are many employers seeking students who can run a sawmill shop, or do plumbing and electrical work, in addition to building."
"We hired Morrisville residential construction graduates, who later opened their own small businesses in our area and who we refer clients to," Oren said. "The college's hands-on training sets them up for successful employment."
"Everyone gets a hands-on experience and you really get your hands dirty," Gridley said. "Our job sites, construction lab, sawmill and woodshop are where the magic happens."
Students learn, design and build in state-of-the-art facilities, which include a 6,000-square-foot residential construction laboratory with framing, plumbing and heating, masonry and electrification labs. They also have access to a variety of finish-carpentry facilities and a computer lab with AutoCAD and LandCADD software.
Working in actual community settings is another feather in the program's cap. Last year's coursework didn't follow the norm as the pandemic forced a half-semester of virtual
learning before students were able to return in-person, with limited class sizes during the Fall 2020 semester.
I receive roughly three to four emails a week from regional employers looking to hire graduates for positions in construction, remodeling, carpentry, HVAC and more.
Ryan Quinn
"It has been a challenging year," Gridley said. "While we are not able to do projects in the community due to the pandemic, we are still doing smaller-scale projects in labs."
This semester, they're manufacturing pre-fab pieces for a 16-by-24 rough-cut shed with a steel roof to house equipment for the college's Woods Sports Team. The entire project is supplied using on-campus resources and materials, while wood products technology students saw, rip (cut) to size and air dry the lumber themselves.
Through the years, Gridley has supervised his students in many community projects, including building houses and decks, finish basements, remodel and brickwork, as well as pouring concrete slabs and foundations.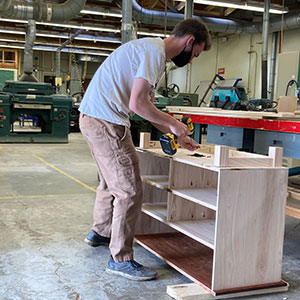 Building his career
Gridley started seasoning his skillset when he was 8, helping his father build things around the house. Not long after, he was making wooden tree stands out of rough, hardwood cuts.
Those projects fueled bigger endeavors — turning an attic into an apartment, building an addition onto the garage of his family's home, building pole barns and eventually remodeling, designing and building houses.
His affinity for taking something from ordinary to extraordinary eventually led him to SUNY Morrisville, where he earned an associate degree in residential construction. Shortly after he graduated in 2004, he started his business.
"I love the challenge and the satisfaction I get when I build something," Gridley said. So much so that he decided to share his knowledge with others, getting his bachelor's and master's degrees in construction and returning to his alma mater to teach. He's been building successful careers ever since.
The foundation of the program is a hands-on approach.
"The hands-on experience is an important aspect of any program," Gridley said. "You can learn in a classroom, but you also need the field experience. To actually do the work yourself is an entirely different situation than reading about it in a textbook."
Eden Adler '24 makes the one-hour drive, from Solvay, New York, every day to campus, where she is taking residential construction courses as technical electives for her renewable energy Bachelor of Technology program.

"It is hands-on in everything at SUNY Morrisville and this is very important for me as I am a very hands-on learner," she said.
"I want to become my own contractor and own my own business eventually, but I am also interested in the electrical union," said residential construction student Justin Amato '21. "This degree gets me into the second year of the electrical union so really, if I wanted to, I don't need to go work for someone. I can start my own business."
"What this means for graduates of the program is if they are accepted by the union trade, they will go in the apprenticeship program as a second-year apprentice and won't have to start at the bottom," Gridley explained.
The program provides students with an arsenal of skills, bridging them to careers in the residential building industry, including as an independent contractor, builder, estimator, supervisor, purchasing agent, material sales, or in real estate and development.
And they're prepared to tackle obstacles, including most recent challenges like the skilled labor deficit, increased lumber prices, limited supplies and supply chain issues.
As residential construction continues to play a vital role in the economy's recovery, Gridley is among those embracing the challenge.
"We continue to think of ways to add to students' experiences," said Gridley, who would eventually like to incorporate building modular homes and partnering with a leading builder into the program.