The future of agriculture, engineering and energy isn't confined to traditional desks and lecture halls at SUNY Morrisville.
Students will begin taking classes this fall in the $16 million Agricultural and Clean Energy Technology (ACET) Center, a 30,000-square foot applied learning technology building that will bolster the renewable energy, agricultural engineering, and diesel technology programs.
Renewable energy students will have indoor solar roofs, several wind turbines, bioenergy labs, heat pump technologies and 35-foot climbing towers for hands-on training involving clean energy. That's energy from renewable, zero-emission sources that do not pollute the atmosphere when used, as well as energy saved by energy efficiency measures.
Three large garage bays for diesel technology and agricultural engineering will increase capacity for servicing heavy equipment and long-haul tractor and trailer assemblies. Each lab will feature a five-ton overhead crane, multiple project stations and state-of-the-art testing equipment.
The real-world laboratories, based on industry standards, help prepare students to succeed in industries that are hungry for qualified graduates.
"We are all very excited about this new building," said SUNY Morrisville President David Rogers. "There is a clear need for graduates in these areas, and the ACET Center comes at a critical time, especially as New York State pursues clean energy priorities. This is another way that we are creating opportunities for graduates to address climate change, even as we position Morrisville with sustainable pathways in higher education."
A green history
The roots of SUNY Morrisville were planted in 1908, when it was chartered as the New York State School of Agriculture to train and support the next generation of farmers.
The move toward green energy began in 2004, when a 120-foot wind turbine started spinning on the hill behind the dairy barn, saving the college thousands of dollars on its electric bill. It was followed by a methane digester, installed to generate electricity from the more than 7,000 gallons of dairy manure produced each day.
The projects were years ahead of national conversation on the role of renewable energy in energy independence and combating climate change.
But the seeds planted at Morrisville grew into a robust incubator tackling how agriculture and technology play a role in food, fuel, energy and the environment.
Today, students can choose from more than 20 classes in renewable energy at SUNY Morrisville to prepare to enter the workforce in the fields of wind, solar, micro hydro, geothermal and bioenergy.
The hands-on renewable energy curriculum was the first of its kind and continues to stand apart from other programs.
"When we wrote it, there was no model to follow," said Philip Hofmeyer, associate professor of renewable energy, who heads the college's environmental and renewable resources division. "I don't think there's any other program in the country that does what we do."
Faculty continue to refresh and revise the curriculum, paying close attention to the skill gaps and needs identified by employers.
"We are following the job market," said Ben Ballard, associate professor of renewable energy, who also heads the college's Renewable Energy Training Center, offering technical courses to support the long- and short-term needs of New York State's renewable energy sector.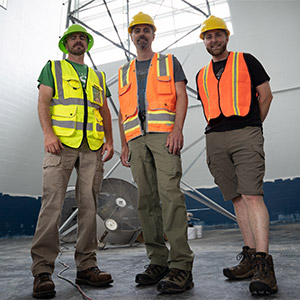 A focus on technology
Associate Professor Charles "Chip" Ax makes sure his students still master the same basics he learned when he received his agricultural engineering degree from SUNY Morrisville in 1989.
But the college's agricultural engineering and diesel technology curriculums also keep pace with the complex systems and current machines that students will encounter
on the job.
"The equipment has become extremely sophisticated," Ax said of coursework focused on the latest advancements to electronics, hydraulics, powertrains, fuel systems, exhaust systems and precision operation.
Industry partners like Caterpillar, Kubota, Komatsu, Case International, New Holland, Claas, Mack and Peterbilt are clamoring to provide equipment to help train students,
as well as hire them after graduation, adding even more horsepower to the state-of-the-art learning laboratory.
"When students walk out of our building, they will be ready for a selection of well-paying jobs in numerous machine specialties and locations," Ax said.
Out of the elements, into the future
As one of the first students of the renewable energy program, Ryan Storke '17 has fond memories of climbing towers to fix wind turbines, analyzing samples from the methane digester, and creating biodiesel from leftover vegetable oil from the campus cafeteria.
The firsthand education prepared Storke for a career overseeing wind, solar and other renewable energy projects across the United States.
"We were doing pretty amazing stuff with the resources that were available. I really enjoyed learning," said Storke, who also has A.A.S. degrees in diesel technology and renewable energy technology from SUNY Morrisville.
The brand new facilities at the ACET Center will amplify opportunities for students to excel in the hands-on coursework that has been the cornerstone of SUNY Morrisville for more than a century.
Pairing the renewable energy and diesel technology programs in the new building made sense for a number of reasons, including cross-training for specific certifications.
"It ties together all of the strongest and best aspects of Morrisville, and that's a really powerful thing," Hofmeyer said. "They really do go hand in hand."
The biggest improvements for both programs: purpose-built labs and high ceilings in the new building, which will accommodate year-round indoor training on state-of-the-art equipment, so students won't have to worry about wind, snow, ice and rain during lab sessions.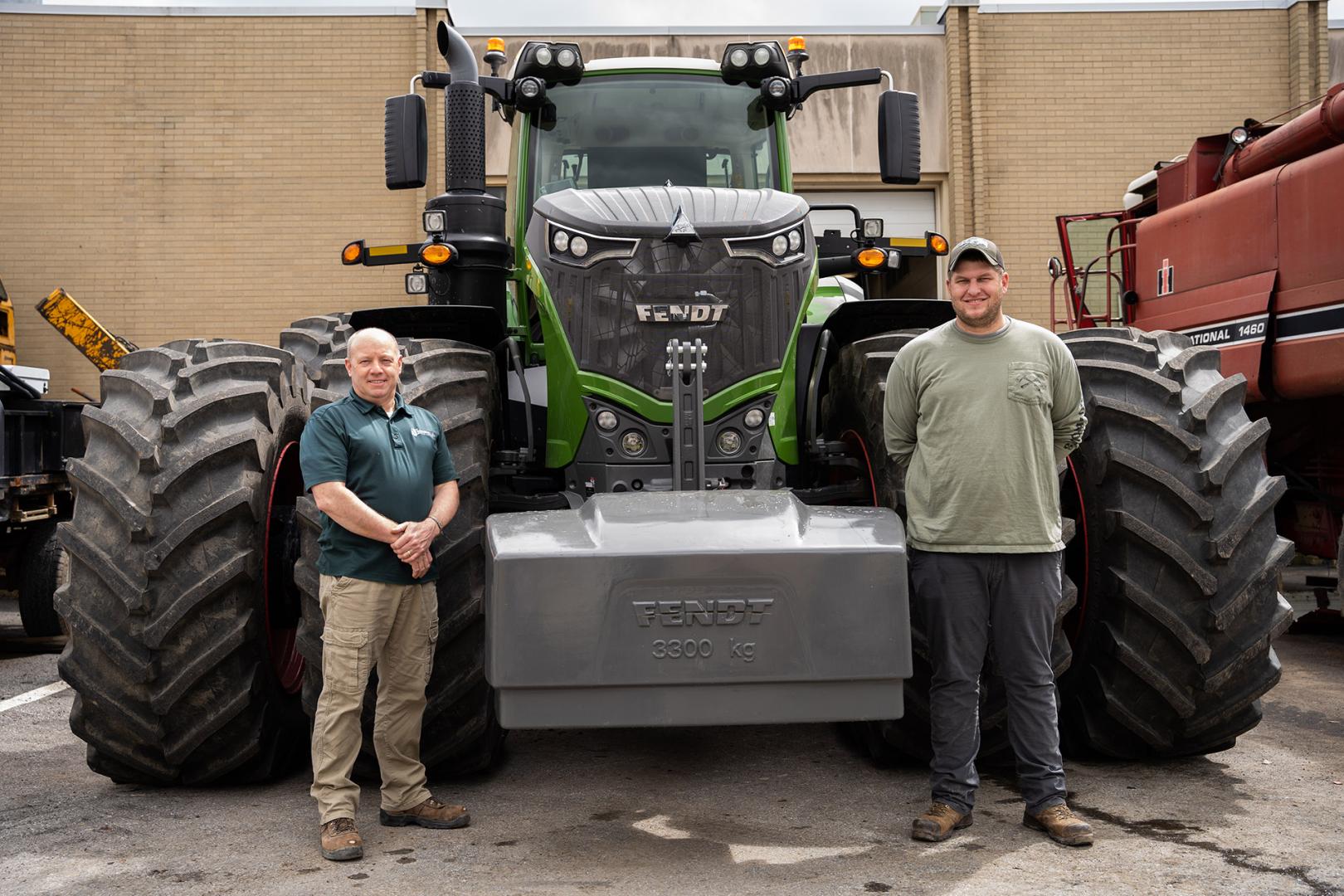 A booming job market
Kevin Nickels said he has always been impressed with the caliber of SUNY Morrisville students who intern with his solar installation firm, Nickels Energy Solutions. Learn more about going solar here: https://www.nickelsenergysolutions.com/.
"They're not starting from square one," said Nickels, who has hired four Morrisville grads in recent years. "They have a higher level of understanding coming in, and the learning curve is really minimal."
Graduates from the renewable energy and diesel technology programs are in high demand, with dozens of employers reaching out each semester for qualified applicants.
On the diesel side, an aging workforce combined with ever-changing technology has created openings for a new generation.
The job prospects for renewable energy students have been bolstered by state and national efforts to promote cleaner energy sources. In New York State, community solar farms and other large-scale energy projects are racing to meet a goal of producing 70 percent of the state's electricity from renewable sources by 2030, as mandated in the Climate Leadership and Community Protection Act.
"Keeping renewable energy in New York expands our economy, giving added momentum to our efforts to build back better and stronger," said NYS Gov. Andrew Cuomo earlier this year. "New York has been at the forefront of the fight against climate change and we will continue to be an example of how this fight can be won."
When Ryan Quinn '14 was an undergraduate student, the concept of using solar energy to reduce carbon emissions from the electrical grid seemed like wishful thinking.
Now, as an assistant professor in the college's renewable energy program, Quinn helps prepare students to design, develop, install and operate solar photovoltaic systems.
"This is going to be the next generation's energy system, and it is so exciting that we get to be such a big part of it," Quinn said. "The future is super bright."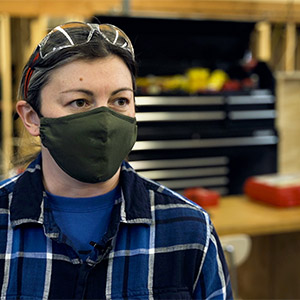 Student spotlight, Eden Adler '24
For Eden Adler, environmentalism is a lifestyle.
"I have a hybrid car, I sort my recycling, I'm always bugging my friends about doing what is best for the environment," she said.
So, when she decided to change careers, her penchant for sustainability brought her to SUNY Morrisville, where she was attracted to the hands-on curriculum and plentiful job prospects.
"When you get into renewable energy, your goal is to save the planet," she said. "Everything I learn in this program will apply directly back to my life."
So far, she has learned the basics of electricity by wiring an apartment alongside residential construction students, and studied the boilers that heat the therapy pool at the college's Equine Rehabilitation Center in her heating and cooling class.
"I really didn't want to sit in a classroom and do the same monotonous stuff," she said. "I'm not stuck writing papers every week. It is much more engaging for me."
While her coursework has introduced her to a number of potential career trajectories, solar energy has piqued her interest the most.
"How to put them together, how they work, how they can power a house or a commercial building," she explained.
Her ideal job: designing homes that incorporate as many renewable technologies as possible.
"I want to pass on that excitement to other people who are interested in a more sustainable lifestyle but still not sure how to make it happen," she said.
ACET Center
Below are some of the features of the ACET Center. The labs will be appointed with equipment from industry partners, who have jumped at the chance to outfit the training areas.
Solar Lab (PV and thermal): Features three indoor roofs, pole-mount, ground-mount and ballast-mount arrays for photovoltaic and solar hot water systems.
85 kW solar PV array: Ground mounted array for on-site energy production, providing a real-world laboratory for commercial solar installation, design and permitting.
Wind & Hydro Lab: Features wind turbines up to 50 kW in size and five micro hydroelectricity turbine systems.
Tower Climbing Lab: Wind and telecom climbing safety lab featuring three 35-foot tall indoor towers and an outdoor 80-ft. tall tower.
Thermal Energy Lab: Features geothermal and air-source heat pumps, high-efficiency biomass boilers, hydronics "backbone" with thermal storage, hydronic heat emitters and forced air ductwork stations.
Biofuels Lab: A dedicated chemistry lab for biofuels production and testing (e.g. biodiesel, ethanol and biogas).
Biomass Processing Lab: Features grinding, drying, extraction and related biomass preparation and processing equipment for biofuels and bioproducts.
Diesel Technology, agricultural engineering, hydraulics, heavy vehicle and powertrain labs: These three large labs have increased capacity for heavy equipment, agricultural equipment and over-the-road trucks. The facility also features a hydraulics technology lab plus an equipment wash bay (indoor and outdoor).
The building also includes a computer classroom, conventional lecture classroom, faculty offices, conference room and lounge.