"It's worth it if you put in the effort," said Danielle Bunting '21 while reflecting on her time as a SUNY Morrisville Mustang.
Bunting, a Thornville, Ohio native, capped off her stellar academic career at SUNY Morrisville with the prestigious State University of New York (SUNY) Chancellor's Award for Student Excellence (CASE), which she was honored with this spring as she also completed her Bachelor of Science degree in human performance & health promotion. The CASE award, the highest bestowed upon a student by SUNY, acknowledges students for distinguished achievements, who have best demonstrated and been recognized for their integration of academic excellence with other aspects of their lives including leadership, campus involvement, community service, arts (creative or performing), athletics, and career achievement.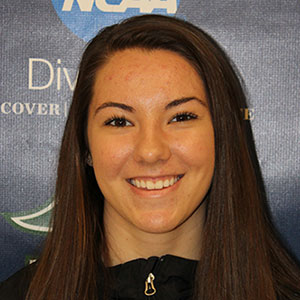 Bunting learned from her mother, Wendy, a work ethic that would lay the foundation for success in any avenue she pursued — never giving up on following dreams, giving all you can to whatever is thrown at you, whether it be academically, athletically or in life. Bunting credits much of her success to her mom, who has served as a role model for the aspiring medical student.
"My mom helped raise her siblings from the time she was 14 and encouraged success on so many levels," she said. "She set the bar high in all that my brother and I did and was there to help guide us along in what we wanted to do, academically and athletically."
When it came time for Bunting to start pursuing the next chapter of her life, she knew that her biggest fan would be supportive of her dream and began searching for the next place to make that happen.
From an early age, Bunting watched her brother play sports, and at less than three years old, began playing soccer, soon finding her way to the ice and learning how to skate. Once she saw how much fun her brother was having playing hockey, she wanted to join in. She already had the feel for the ice, showcasing her talents in figure skating.
When she first picked up a hockey stick at seven years old, Bunting knew this was a love that she could never skate away from. That passion led her across two states to the small Central New York village of Morrisville in August 2017.
Her affinity for hockey and love of science drew Bunting to SUNY Morrisville, a place she called home the past four years.
"From the time I stepped on campus, I knew that I could make a difference," said Bunting. "The (women's ice hockey) team had great leaders in Maria deWilde, Kaitlyn Schlake and Ciara Lark that made the environment welcoming and set the example for years to come with the program."
She knew Morrisville would help guide her down the path to success later on.
From the time I stepped on campus, I knew that I could make a difference.
Danielle Bunting

Women's hockey had one of the most successful seasons in the young program's history during Bunting's freshman campaign, capturing the Colonial Hockey Conference (CHC) regular season and tournament titles, and earning the league's first automatic qualifying bid to the NCAA Division III Championship Tournament.
A top competitor for the next two years, Bunting again made an impact on the ice, but it was what happened off of the ice that further developed the young student-athlete into who she is today.
Bunting chose the human performance & health promotion major with the initial plan of becoming a physical therapist. Like so many, that plan changed when her own personal struggles with uncontrollable skin issues took her down a different path, which led her to pursue a medical degree in dermatology.
Off the ice, Bunting also excelled academically. She pursued tough courses throughout her academic career when they weren't typically in the 'lineup,' such as organic chemistry; found time to tutor in the college's Academic Services Center; volunteered with various community service projects within the hockey program and across campus; and was also involved with the Student-Athlete Advisory Committee (SAAC) as an officer. She also maintained Dean's List and President's List accolades.
"I had a jam-packed schedule," she said with a smile when describing her typical day. "I started my day at 5 or 6 a.m. with practice, went to class, fit in tutoring during breaks, studying, hanging out with friends and other things I was involved with. Professors were willing to work with my schedule and made it easier to accomplish all I set out to do."
In-between it all, she found time to give back, too.
"My teammates guided me to tutoring, but in a good way," she said. "It has helped me build relationships with others, allowed me to give back when I can, and help others better understand things I love in a way to help them."
Her efforts helping others didn't go unrecognized, as she was named Morrisville's 2020-21 Peer Tutor of the Year.
Bunting capped off her career with an internship at Park City Off the Mountain Gym in Utah during the spring term, an experience that turned into a personal training job for the budding doctor while she determines where her feet will land next.
Success comes as no surprise to those who know Bunting best. Determination has lauded her several accolades throughout her career, including ACHA All-American Scholar honors, All-Academic Team accolades, becoming one of the first inductees into the college's Chi Alpha Sigma Alpha Lambda Chapter of the National Honor Society for Student-Athletes, and being named captain of the women's hockey team.
"Finding the right group of people to lead the way is important," said Bunting. "You can do whatever you put your mind to — you can achieve anything."