Be the heart and soul of health care.
The nursing profession offers one of the fastest-growing career opportunities in health care today.
In the SUNY Morrisville Associate of Applied Science (A.A.S.) degree program in nursing, you'll undertake two rigorous years of study with a clear outcome: you'll be eligible to take the National Council Licensure Examination for Registered Nurses (NCLEX-RN). This will be accomplished through a curriculum consisting of 64 course credits, with 37 in nursing and 27 in general education.
Each semester, the program combines classroom learning with clinical experience in a hospital or lab session. You will work directly with patients under the supervision of a faculty member who has years of experience working as a nurse and will give you direct attention, as our student-to-faculty ratio never exceeds eight students in any clinical setting.
And because of the demand for excellent nurses and our program's reputation in the field, the world is open to you when you graduate.
You also will be able to seamlessly transfer into our Bachelor of Science (B.S.) degree program in nursing to further your knowledge and expertise of the field.
Starting with the Fall 2019 semester, any student admitted into a New York State Associate Nursing Degree program will be required by the NYS Education Department to obtain a Baccalaureate of Science in Nursing Degree within 10 years of initial licensure in nursing. SUNY Morrisville is pleased to offer a hybrid online RN to BS program that can be completed in 24 months. For more information please see NYS Senate Bill S6768.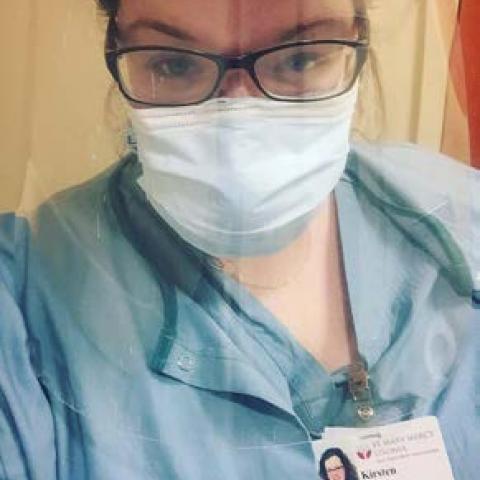 Alumna, Nursing
Morrisville has been known to prepare strong nurses. Faculty teach you how to think critically by combining your education with reasoning so that you can come up with a solution that most benefits your patient. This amazing college has been life-changing for me.
Show Content For

Technology Requirements

Minimum Device Requirements for this Program

It is highly recommended that students do not purchase a tablet or touch-screen device, as is will not run specific nursing software packages.

64-bit versions of Windows 10 and Windows 11. Only genuine versions of Windows Operating Systems are supported. The versions of Windows 10 certified for use are 20H2, 21H1, 21H2, and Windows 11 21H2.
CPU Processor: Non-ARM based processor supported by your operating system
RAM: 4GB of usable RAM or higher
Hard drive: 4GB or higher of available space.
USB port is required (Newer devices may require an adaptor.)
Screen resolution should be at least 1280 x 768. Scaling should be set to 100%.
Software: Microsoft Office 365
Accreditation Information

NY State Education Department
Office of the Professions
Division of Professional Licensing Services
Nurse Unit
89 Washington Ave
Albany, NY 12234-1000
518.486.2967
HESC code: 5208.10

Accreditation Commission for Education in Nursing (ACEN)
3390 Peachtree Road NE, Suite 1400
Atlanta, GA 30326
404-975-5000
www.acenursing.org

 

 

Accredited by the New York State Board of Regents.

SUNY Morrisville Associate Nursing Program Outcomes

Expected Level of Achievement

Student Achievement Outcome Data

Eighty percent (80%) of the graduates will meet or exceed the National Council Licensure Exam for Register Nurses (NCLEX-RN) on the first attempt

 

Year
Percentage
2021
Morrisville - 83.33%
Norwich - 65.31%
2020
Morrisville - 74.71%
Norwich - 60%
2019
Morrisville - 85.70%
Norwich - 86.60%
2018
Morrisville - 77.78%
Norwich - 78.50%

Sixty percent (60%) of graduates will complete the program within three years of matriculating in the nursing program

| Year | Percentage |
| --- | --- |
| Fall 2021 | 71.4% |
| Spring 2021 | 61% |
| Fall 2020 | 67% |
| Spring 2020 | 63.2% |
| Fall 2019 | 52.5% |

Ninety percent (90%) of the program graduates will be employed in nursing within six months of graduation

Year
Percentage
Spring 2021
Morrisville - 79%
Norwich - 75%
Fall 2020
75%
Spring 2020
Morrisville - 72%
Norwich - 78%
Fall 2019
71%
Spring 2019
77.4%
Fall 2018
80%
Spring 2018
92%
Labor Market Data
Top Job Titles for this Program
These are the job titles you are most likely to see listings for when graduating from this program.
Registered Nurse
Med/Surg Registered Nurse
Intensive Care Unit (ICU) Registered Nurse
Emergency Room Registered Nurse
Per Diem Nurse
Travel Registered Nurse
Nurse Case Manager
Operating Room Nurse
Neonatal Intensive Care Registered Nurse
Staff Nurse